We have reached the point in our journey back towards normality where we are permitted to meet again in person for public worship. This means that from Sunday 5th July we will be offering services both onsite and online. It is an exciting but evolving time so please read on for key information about both options.
ONSITE
There will be an outdoor service at 9.30am in the paddock, the church land which is accessed through the gateway in St Michael's churchyard (AL3 4SL). Arrangements for this service have been prepared after detailed consideration of the relevant Church of England guidelines.
– We are meeting outdoors to help build confidence, assess how many wish to regather, and help us plan how we might once more safely accommodate congregations inside both churches. Households/bubbles will be spaced at least two metres apart. There is no Plan B – please bring an umbrella or sunhat if conditions demand!
– Chairs will be provided but if you are willing and able to bring a camping chair or rug then please do so.
– Everything you need for the service will be in a single booklet. Disposable printed copies will be available, but if you wish to bring the service on a tablet, please subscribe to our regular email updates via kennethpadley@gmail.com
– The service will last about 45 minutes. We are not yet permitted to sing so there will be more spoken word than usual.
– For those who wish, Communion will be available, distributed in the form of bread only. We will be giving detailed guidance on the day about how we will do this safely.
– All ages will be present. Parents, please remain responsible for keeping your children spatially-distanced. There will be age-specific worksheets for infants and juniors based on the readings of the day but at present we must ask parents to provide supporting materials such as books, toys and crayons. We will have printed copies of the worksheets on site but if you wish to print your own, the sheets will be distributed in advance by our Children's Church leaders; if you have yet to join their mailing blocks, do get in touch with Jo Fabian (Years R to 2) and Pauline Wiley (Years 3-7).
– The service will be video-recorded for broadcast to viewers at home on Sunday 12th July. The only faces which may be recorded are those at the front of the worship area.
– We are not yet able to provide refreshments, but in a few weeks' time we hope to invite a Bring-Your-Own.
– Toilets and baby change facilities will be available in the Parish Centre in the churchyard.
– Hand sanitiser will be available in the paddock.
– The wearing of face-coverings is voluntary.
– On entry to the paddock, a steward will ask your name and, if you are not on our database, they will also ask you to provide a telephone number. We will store a track and trace attendance record for the NHS for 21 days.
– We hope that during the lockdown all regular supporters have made the transition to giving by electronic means. Guidance on how to do this is here.
Our goal is to stay strong, safe, and united as one church. It is vital that people regather onsite at the time which feels right for them. The following should not attend this or subsequent onsite services and are encouraged to access our online service:
– those who are shielding (until advised otherwise);
– those showing any coronavirus symptoms;
– those who are self-isolating due to a possible or confirmed case of coronavirus in their household;
– those who are presently requested to self-isolate by NHS Test & Trace.
ONLINE
A digital service will become available on our Youtube Channel from 9am on Sunday. To deepen your engagement with this, you may wish to download the service booklet; please subscribe to our regular email updates for this via kennethpadley@gmail.com
ZOOM COFFEE 
Zoom coffee runs on Sunday mornings between 10.30am and c.11.15am. Small breakout groups will be available if large numbers attend. To obtain the Zoom code, please subscribe to our regular email via kennethpadley@gmail.com
WEEKDAY MORNING PRAYER
Morning Prayer is being said via Zoom at 9am Monday to Thursday. It lasts about twenty minutes. To obtain the Zoom code, please subscribe to our regular email via kennethpadley@gmail.com
Before the interruption of the pandemic we observed the following pattern:
Regular Services at St. Michael's
Sunday
8am Holy Communion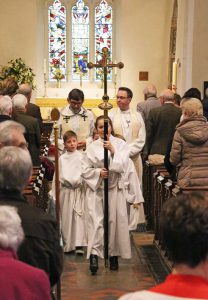 9.30am Parish Communion, with children's groups
Evening worship at St Michael's is intermittent and diverse – sometimes Choral Evensong, sometimes Taize, sometimes special seasonal services.
Monday
9am Morning Prayer
Tuesday
9am Morning Prayer
Wednesday
9am St Michael's Primary School Service
10am Holy Communion
Thursday
9am Morning Prayer
Friday
9am Morning Prayer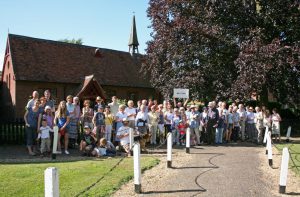 Regular Services at St. Mary's
Sunday 6pm, Evensong
First Sunday of the month is Communion with hymns and a sermon and refreshments afterwards.