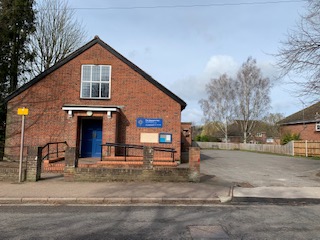 To make a booking, please use our new booking website by clicking here
Details of the facilities available are as follows:
Main Hall
15.3m x 9.2m
Wooden floor
Maximum capacity 150 persons
Stage
8.4m x 4.5m
Tables
10 large tables
Chairs
150 available
Kitchen

Fully refurbished
Crockery and Cutlery for 50 people
Plenty of worktop space
Kettles
Dishwasher
Fridge
Cooker
Bathroom
Men's, Ladies (with baby change) and Disabled toilets.
Wifi
Not available
To view the Cost and Terms of Hire, please click here
Contact Us
Please email hallbooking17@gmail.com with your enquiry. To speak to someone, please call 07899 697966 during office hours Tuesday to Thursday between 09:00 and 12:00.