Hall Hire
The Parish has three spaces available for public hire, all with toilets and catering facilities.
Parish Centre (AL3 4SL)
The Parish Centre was built in the 1970s as a meeting place for St Michael's church and the wider community. It consists of two rooms and is regularly used for meetings, children's music groups, and parties. The fully-equipped downstairs kitchen includes a rope-driven service lift, giving easy transfer of food, plates, etc., between the two storeys.
Memorial Hall (AL3 4SS)
The Memorial Hall is located on Branch Road, St Albans. It was built in 1925 to commemorate lives lost in World War I. With a raised stage and a capacity for 100 people, the hall is ideal for local activity groups, productions and children's parties. This popular hall is hired by the community 7 days a week.
Our facilities include:
Main hall 15.3m x 9.2m
Stage 8.4m x 4.5m
Private Car Park For approximately 20 cars
Large kitchen Basic (with plans to refurbish)
Bathroom facilities Ladies, Gents and Disabled
Tables (large) 10 available
Chairs 100 available
Ramp to Front Door Easy access for wheelchairs and buggies
St Mary's Schoolroom (AL3 6JJ)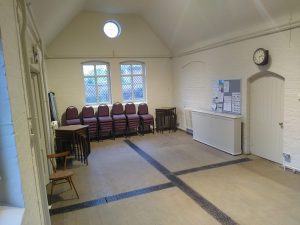 The Victorian Schoolroom to the rear of St Mary's was originally used to educate workers and their children on the Childwickbury estate. Recently refurbished (2019-20), it is bursting with rustic charm.
Facilities include:
galley kitchen for making simple refreshments
seating for 25+
accessible toilet
baby change
garden room
off road parking for 6 vehicles
Letting Enquiries
If you would like further information including Terms of Hire and cost, please contact Danielle Argent on 07899 697966, email by clicking here. The office hours are Tuesday to Thursday 09.00 to 12.00. Outside these hours, please leave a message or send an email and Danielle will respond when she is next in the office.